Hello folks! Here is my dow2 mod. It is a continuation of the Destroyer mod made by Bloodravage, with help from the Elite, Warpstorm over Aurelia and Closer to Codex mod teams as well as Shuma to name only a few. Full credit list is the mod description.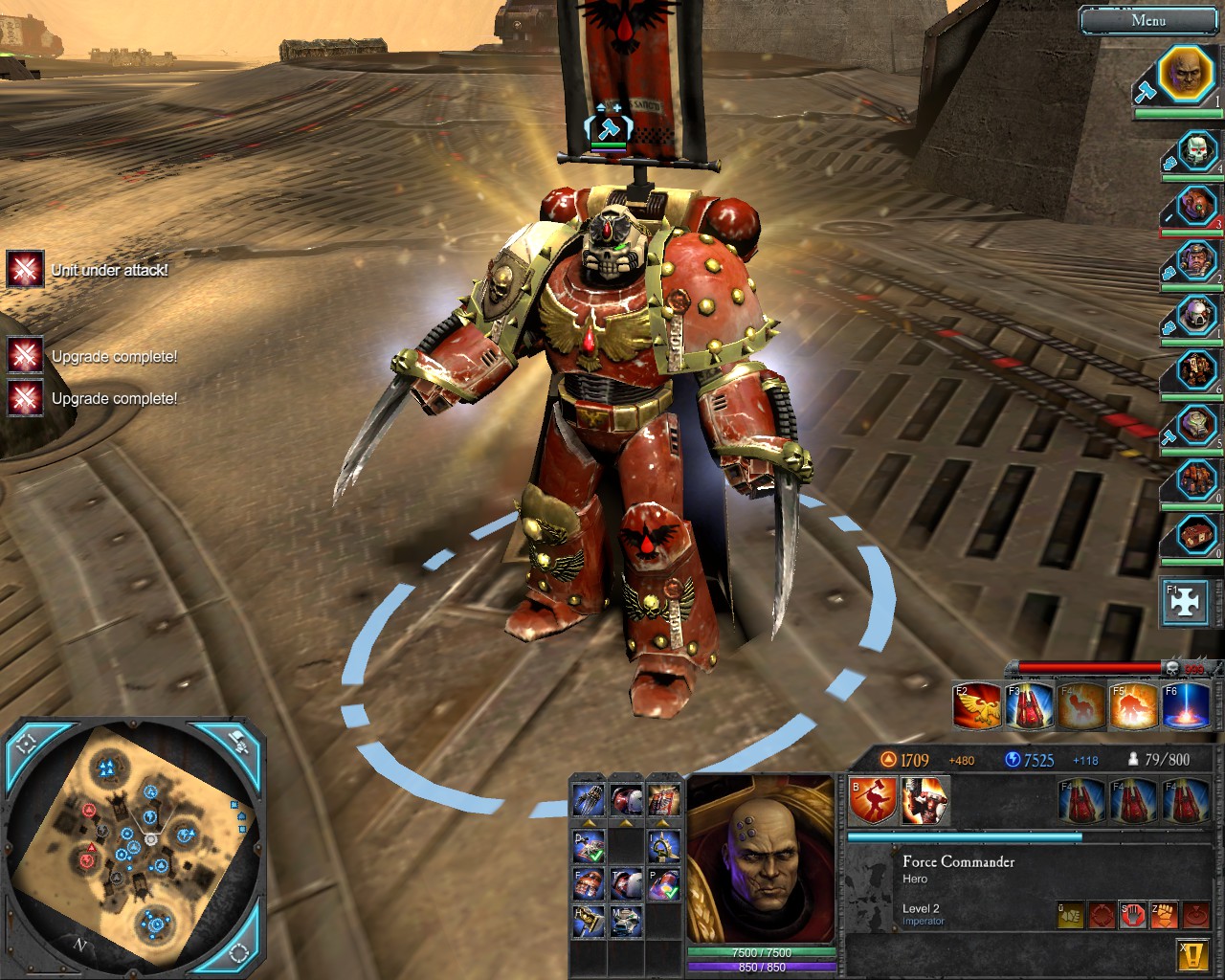 Warnings:
-It is a lore mod full of Movie marines, Black Library, Forge world, etc goodness.
-Balance is very shakey at best.
-Requires a good PC.
-Skirmish only, Retribution campaign is pretty bad.
There is a Dow2 Chaos rising version for Campaign.
Race changes:
Space marine Captain -> Chapter Captain
Space marine Techmarine -> Grey Knight Captain
Space marine Apothecary -> Legion Captain.
The hero you choose also chooses what race do you play as. A company of current marines, of 30k era Legion marines, or demonhunters.
General -> Cadian IG
Inquisitor -> Tau
Commissar -> Krieg IG
http://www.moddb.com/mods/vengeance-of-the-blood-ravens
Here is the mod page.
Totally revised game according to background lore.
Command 100 space marines, or hundreds of enemies.
Additional units, a lot. Search mod page articles for full list.
Ever wanted to play a lore battle? Get your Sternguards, Vanguards, Khorne Berzerkers, Ironclad Dreadnoughts, Chaos Land Raiders, Tau, Legion breacher squads, Grey Knights, Dark Reapers and all that.
New race profiles:
Astartes:
Very elite species with fewest and most expensive units, but very high damage, speed, range and health.
Imperial Space marines: A slightly bigger ranged focus.
Chaos space marines: A balanced melee/ranged focus.
Grey Knights: A strong melee focus.
Legion space marines: Alternate space marines with a more ranged setup and slightly less powerful but more numerous common trooper types, and new special elites like Breachers and Cataprachtii terminators.
Eldar: Very fast race with specialised troops. Medium health but big damage and speed. Troops are always hard counters against one unit type.
Tau: A slower glass cannon race but with a much greater focus on ranged firepower with additional range. Mix of eldar and Ig gameplay.
Humans:
Cadian Guard: A swarm army specialising in ranged firepower. Use tanks to keep the fire off the vulnerable units and reinforce troops.
Krieg Guard: A slower IG type without scout sentinels, but can not be supressed.
Orks: A melee focused swarm army with cheaper but more numerous vehicles. Keeping reinforcements is important, like with guardsmen and tau and tyranids.
Tyranids: A mixed army that has swarmer units, focused specialists and even powerful elites.
General tips:
Tanks are now more poweful.
Space marines are individually the best. Use a lot of tanks, waves of infantry or specialised long range anti-super heavy infantry units. Meltas, lascannons, plasma weapons, dark reapers, broadside battlesuits are all your friends in this.
Some Chapters and Legions have their own visuals. This is cosmetic only.
Lot of pictures
Here is also my Dow2 Chaos Rising campaign mod.
http://www.moddb.com/mods/wrath-of-the-blood-ravens
Adds much more enemies, more wargear types and more squad members.
Bugs:
Do not use terminator armour at Angels gate or it breaks.
Try to get all your units to Apothecary Galan in the same time or game can have Scar error.
When approaching Tarkus in CR, use only your Commander and send Avitus and Cyrus back to the starting point. if they kill all IG before Tarkus can throw the grenade, the game gets Scar error.