Intrepid-Class Starship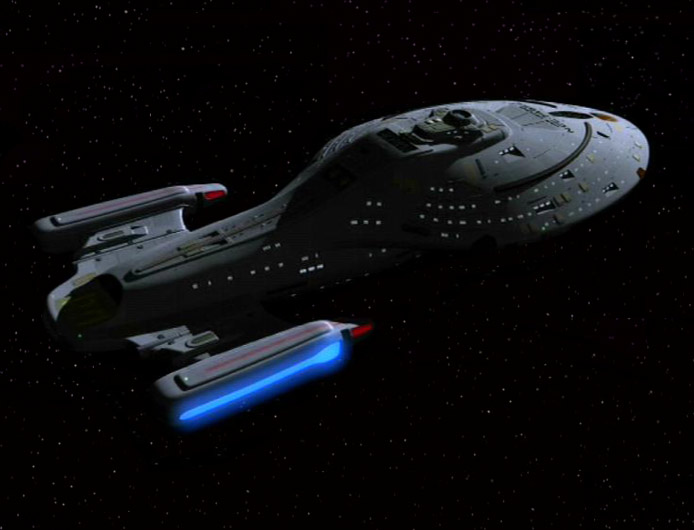 Lore:
These ships where not designed primarily as combat vessels, but as versatile science and exploration ships.
The Intrepid had various system upgrades and innovations over previous classes, the ships tiny size (barely over 300 meters) making it more convenient for construction and servicing, the design philosophy of 'small and smart' showing in it's compact and efficient construction.
Despite its primary function as an exploration vessel, the ship is not poorly armed.
She has 13 phaser arrays, 4 phaser banks banks, torpedo launchers that could fire proton torps, Tricobalt devices and Quantum torpedoes and the capacity to fire a Graviton Beam. This armament is considered fairly impressive by Star Trek standards, being comparable in many ways to the armament found on the much larger Galaxy-Class, making the intrepid a surprisingly dangerous combatant.
Armaments:
13x Type-9 Phaser Array
4x Type-10 Phaser Banks
Torpedo launch tubes*
Graviton Beam emitter (via the main deflection dish)
*Photon Torps, Quantum Torps and Tricobalt Devices
Maneuverability:
Max speed of 9.9 Warp factors (roughly around 50 c, unsustainable speed)
7.5 g Max Acceleration
Shield:
14x Multi-spectrum Deflector Shield grids
Targeting:
Type-9 Federation Targeting Computers
Iconoclast Destroyer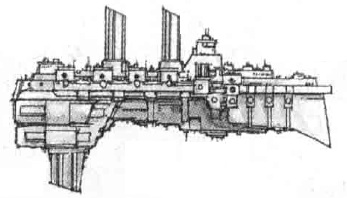 Lore:
The Iconoclast is the terror of convoy operations across the Imperium: being in extensive service with Pirate and Heretic fleets. The ship is small (1.3 Km) and poorly armored even for an escort, but has a savage armament of weapon batteries and capable of impressive speed. The ship's origins can be traced back to Battlefleet Calixis, but the destroyer has not seen service with Imperial forces for many millennial: almost all Iconoclasts seen in M41 being constructed in underground ship yards in and around asteroid fields and deep-space stations, any space-capable planet also being entirely capable of building the simple warships.
As such these vessels are considered as numerous as the stars themselves, groups of Iconoclasts being located in nearly every corner of the galaxy, ready to tear into unsuspecting shipping with lethal intent.
The armaments and internal systems of Iconoclasts vary greatly from ship to ship, being infinitely variable depending on her traitorous or outlawed captain's preferences. But all Iconoclasts are quite capable of bringing down even mighty Battleships in large enough groups, and have the cargo capacity to haul of hefty sum of trophies from the wreckage.
Armaments:
10x Plasma or Laser Weapon Batteries (5 per side, most common variant)*
*Varries greatly from ship to ship
Maneuverability:
7.2 g Max Acceleration
Shield:
Escort-Class Void Shield
Targeting:
Variable patterns of (often stolen or rigged) Targeting Cogitators
Combat Comparisons
Armaments:
In terms of raw damage, the Iconoclast weapon batteries are more powerful that phasers by a long shot. While the Type-9 phasers are technically capable of penetrating void shielding based on power calcs, it wouldn't be a quick or easy endeavor; the iconoclasts armor (although thin by 40K standards) also capable of resisting phaser strikes. By comparison, the plasma or laser weapon batteries (while much less accurate) are entirely capable of overpowering the deflector shields (although it may take more than one salvo) and tear through an Intrepid's hull with contemptuous ease.
However, Intrepid has the trump card of having tropeodes, tricobalt devices and a Gravitation beam: all of which are entirely capable of destroying an Iconoclast (even if shielded in a few cases). So no edge to either here, as both can quite easily kill the other.
Range:
The Iconoclast's maximum engagement range is around 10,000 Km (depending on its armaments) but often engages at much closer ranges. The Intrepid Maximum range isn't explicitly known, but it's safe to assume the two will engage each other at close range. Draw.
Combat speed:
The two are large similar in terms of mobility, and both are displayed as engaging in sweeping maneuver-based combat. So they are equals here.
Durability:
The Intrepid is entirely dependent on its shield. While the multi-spectrum deflector shields are theoretically capable of resisting weapons in the power range of the Iconoclast, they can't do it for long. On the other hand, The escort Void Sheilds are quite capable of resisting phasers for upwards of an hour, and the Iconoclast is armored like a dreadnought compared to the much smaller Star Trek vessel. This goes quite clearly in favour of the Iconoclast.
Comparison outside of combat
The Intrepid gets the clear victory when it comes to versatility outside of combat.
The Iconoclast being only suitable for combat and transport operations, where Intrepid can fill
many
peace-time roles, as is the nature of Star Trek vessels.
In terms of construction, the Iconoclast has the edge in terms of simplicity, but may cost more due to its size.
She is a much simpler and cheaper deign to construct than the Intrepid, although she is much larger so will consume a greater number of resources. For that reason, neither have an edge over the other.
In terms of out of combat speed the two are fairly even in stellar travel, but the Iconoclast using warp travel is at a distinct disadvantage to Intredpid's Warp drives. The Intrepid wins here.
Service life is no competition between the two ships, as Iconoclasts can serve for thousands of years if not lost in combat. Iconoclast has the edge for service life.
Scenario Battles
Well, combat between the two vessels will almost always come in the form of a surprise attack by 3 or more of the Iconoclasts on a lone Intrepid. In this case, the vessel stands almost no chance of surviving the opening stages of the battle.
However, if we assume a 1v1 scenario where both are aiming with killer intent, the battle is actually surprisingly even. While the Iconoclast is has flat out better standard weapons and protection, as well as neither having the edge over the other in speed, the tiny size of the Star Trek vessel and the dodgy targeting equipment of the Iconoclast may well make the Intrepid a very difficult target for the Iconoclast to kill. If the captain of the Intrepid is competent and makes use of all the weapons at his/her disposal: there is no reason why the Intrepid shouldn't be able to destroy a lone Iconoclast and escape with little or no damage taken.
But given that Iconoclast never deploy alone, it's much more likely the Intrepid will be destroyed in fairly short order; possibly taking one or two Iconoclasts with them while trying to escape (if the Intrepid even survives the opening salvo from 3 or more Iconoclasts, as mentioned).
Summary
Overall the Intrepid is a superior vessel considering its size and versatility outside of combat, but the Iconoclast wins in most situations where the two ships meet in combat.
And so, the born-and-bread combat vessel wins out as a combatant (although a 1v1 scenario would be a close battle), but the Intrepid is the superior ship in every other respect excluding cargo space.